East Trent Churches
Besthorpe, Holy Trinity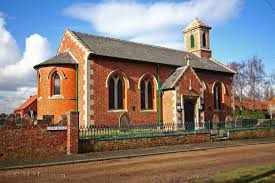 About us
Holy Trinity Church was built in 1844 as a 'Chapel of Ease' for S.Scarle Church. It is Grade 2 listed and is unusual as it aligned North - South. It is a simple brick built building with slate roof. The Apse on the south side of the church was added 50 years after the church was built and the stone window surrounds were installed at the same time. Further details about the history and construction of the building can be found at the Southwell & Nottingham History Project and Church Near You websites, but more up to date photos and details can be found on the Besthorpe Village Website.
Recent work on the church has ranged from a new roof and repairs to the bell tower in 2009, a project in 2013-14 to link the church to the village hall and a complete reordering in the church and a refurbishment of the small village hall to create Trinity Hall, the only community space for the village. During that project, the remains of the original 15th century church on the site were uncovered when work was done to excavate the floor to install underfloor heating. Another project funded by Notts. Historic Churches Trust and the Heritage Lottery Fund in 2015 - 16 enabled further excavation and recording of that and the completion of the work on the building refurbishment with repairs and refurbishment of the external railings and supporting walls. Images and a report of this work have been recorded on the Village Website.
The Church is now used for a wide variety of activities from the Youth Club, play schemes, concerts, parties, yoga, keep fit and many others, whilst retaining the integrity of the church as a place of worship. It is available for hire - see the Beshorpe Village website for details
Services 2019
1st Thursday of Month 10.30am Holy Communion followed by coffee and a chat
3rd Sunday of Month 9.00am Holy Communion June etc...(No service Aug)
Alternate 4th Sunday of Month 10.30am Morning Prayer Sept, Nov, etc...
We do cancel some of our services occasionally when there are group services - see the weekly Grapevine for details.
Events
The Church is open every Saturday and Sunday 10.00am - 4.00pm for quiet prayer
We are celebrating our 175th Anniversary of the Consecration of our Church with events in September:
Table Top Sale Saturday September 7th 2.00 - 4.00pm. Let us know if you have items you want us to sell or book a table for £10 to raise money for your Church or charity
175th Anniversary Songs of praise Service and Supper Wednesday Sept 11th 7.30pm
The Church will be open on Saturday September 14th to welcome the Ride and Stride from 9.30am until 6.00pm
Concert of Madrigals and Songs with Farnaby & Co. Saturday September 14th 7.30pm Tickets £8 to include a drink, contact Sue Butler
Our Harvest Festival Service is on Sunday September 22nd 10.00 am followed by a simple brunch. We hope you will be able to join us.
Carols on the Green is Friday Decemebr 20th
Features and Facilities
Car park - there are some spaces in front of the church and disabled parking spaces alongside the hall. Further spaces are available in the village parking area - a short walk from the church
Access - there is full disabled access through Trinity Hall
Hearing Loop - there is a hearing loop available in the church
Toilets - there are toilets in Trinity Hall including a disabled access toilet
Opening - we try and open the church whenever possible when there are no events taking place. If you find the church locked - please contact Sue or Rosie - see details below.
Contacts for Holy Trinity Besthorpe
Sue Butler, Churchwarden Rosie Smith, Churchwarden
The Old Post Office Whiteways
Church Lane Low St
Besthorpe Besthorpe
Newark Newark
Notts Notts
NG23 7BN NG23 7HJ
01636892068 or 07786395194 01636894278
suebutler@gmx.co.uk rosemarysmith2@gmail.com
Holy Trinity Besthorpe, NG23 7BN