Langford, St Bartholomew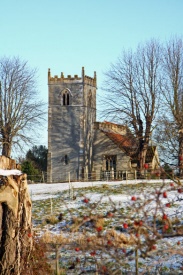 Services
3rd Sunday of Month 10.00am Morning Worship (Feb, Apr, June, Aug, Oct, Dec) This is normally lay led
9.00 am Holy Communion (Jan, Mar, May, Jul, Sept, Nov) Taken by the Rector or a member of the Clergy
Church Officers
Churchwarden: Jeremy Steele
Treasurer: Jeremy Steele PCC Secretary: Becky Whittaker
Organist : Peter Gill Deputy Organist Christine Hasman
Contact: Jeremy Steele
12 Bell Lane
Collingham
Newark
Notts
NG23 7LR
(01636) 893143 Chuchwarden or (01636) 892020 Alternative contact
Family History
If you are researching your family history in Langford, please try the East Trent Genealogy website.
Find Us
Holme Lane, Langford, Newark, NG23 7RT
The church is a short way up a track to the west of the old vicarage.
The present Langford church was built when the village was larger around 1200AD. After the parish of Holme was incorporated into Langford a vicarage was built in 1860 next to the church to serve both Langford and Holme.
Over the past twenty years, despite the small size of the community, the church has been the subject of a major restoration programme, costing over a quarter of a million pounds, thanks to the dedication of a committed group of local people. It is now watertight, sound and looking clean and bright.